Meet The Off Leash K9 Team
Joyell lives in the Little River area and has a Bachelor's in Psychology and a Master's in Education from UNC Greensboro. She taught public school for several years transitioning into a homeschooling mom of six children for the past 16 years.

Joyell loved dogs while growing up and began dog training when they adopted their first rescue, Gracie, in 2010 and then Lauren several years later. It was not until 2019 when the family bought a Mini Aussiedoodle named, Daisy, she found herself delving into everything dog from videos, books, talking to other trainers, online classes, and her own dogs. Since then, Joyell added 2 more dogs: another Mini-Aussiedoodle named Cappy and a Mini-Bernedoodle named Carter. Joyell responsibly breeds Mini-Aussiedoodles for pet families where all the puppies are loved and raised with her family. Joyell continues to educate herself daily and loves combining her years of teaching experiences with people to help you understand your dog. When Joyell is not training dogs, you can find her spending time with her wonderful husband, six kids, son-in-law, and grandchild. We are very happy to have Joyell as part of our Grand Strand Team in Myrtle Beach!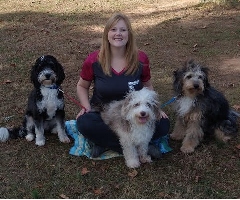 do you have questions for us?
Or Call us for a free consultation today!
About Off Leash K9 Training
Dog Trainers Who Are Recognized Around The World!
Nick White is the Owner and Founder of Off Leash K9 Training.  Nick is a former US Marine and former US Secret Service. He currently has over 130+ dog training locations throughout the United States. 
Nick is globally recognized as being one of the top dog trainers in the world.  He has 2 official world records in off leash obedience, named on Wikipedia as one of the top 20 dog trainers in the world, recently named top 10 trainer in the world by bestdogtrainers.org, has been featured in many magazines and shows, and he is regularly requested by the top celebrities and athletes! He has been called upon by people such as actor Ryan Reynolds, WWE's John Cena, MLB All Star Max Scherzer, UFC World Champion Jon "Bones" Jones, and many more!
You can visit our YouTube Channel and watch over 1500+ before/after videos of Nick and his team's work!  Off Leash K9 Training has more documented videos than any dog training business in the entire world!